When you call our IT Help Desk, we don't just ask you how we can help; we get right down to business with: Live Support, 24/7 –
Work late? Work early? Work weekends? It doesn't matter.
Anytime you run into a problem with your technical equipment, you can give our team a call.
More Experience for Swifter Issue Resolution – Our Help Desk is staffed by seasoned technicians with a minimum of two years' experience resolving application, desktop and network-level issues. When you call, you can count on receiving reliable top-tier support. Microsoft Office Expertise – All Help Desk technicians are certified Microsoft Office professionals and fully qualified to deliver expert support for Word, Excel, PowerPoint and Outlook. Customer Recognition – Each time one of your users calls the Help Desk, our technician automatically sees your unique customer profile so we can move more quickly to correct your problems.
A proactive approach to technology and infrastructure management
We'll Worry About Technology – You Can Focus on Your Business If there's one certainty in IT, it's that things are uncertain. Computers crash, software doesn't work as it should, and problems occur. And when they do, the way that you respond can be the difference between a minor hiccup and a full- blown business interruption.
We now offer a fully-managed IT services suite designed to provide you with 24/7 peace of mind, freeing you to focus on driving your Oil business forward. We monitor your systems, apply patches, protect against viruses, ensure backups are performing successfully, and more. We'll catch (and fix) the little problems before they become big ones – in many cases before you're even aware that there's an issue.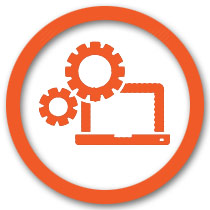 A Complete Suite of Fully-Managed IT Services helps you take the hassle out of IT management, so you can focus on your business.
Our offerings include:
Network Monitoring & Care We keep tabs on your network activity around the clock, and when a system or function fails, our support teams immediately jump in to investigate. Once the problem is identified, we'll work to fix it — in many cases before you've even realized there's an issue.
Help Desk Our new U.S.-based Help Desk provides support, whenever you need it. Our highly-skilled technicians can be contacted via phone, email or web-based chat, and are ready and waiting to help answer any of your technology questions and provide fast, professional support for a variety of software applications.
Just a sample of what your business can expect…
▶ Remote Monitoring
and Management (RMM)
▶ Cybersecurity
▶ IT Help Desk
▶ Peace of Mind
▶ Reduced Risk
▶ Predictable Costs
▶ User Productivity
▶ IT Consulting
▶ Proactive System Maintenance
▶ Increased Productivity
We'll take your business to the next level and show you affordable, attainable results!
.